Five months to the day!
They say the journey of a thousand miles begins with a single step. On February 20, I took the first step in building my dream project by cutting the first board for the massive roll top desk build. To be honest, the lumber had been stored in the shop for months and I had no real plans to start it anytime soon.
Out of boredom, I thought, "at least I can label a few of the boards for certain parts." That led to, "I'll just clean this board up to see what's underneath the dust and sawmill marks." I spent that Friday evening and the entire next day cutting rough sizes and never looked back.
I put the final coat of finishing touches on the desk on July 20…five months later!
The project actually started earlier though, much earlier. The tree from which the desk was built was cut in April, 2013. The log was cut into boards in May, 2013. So, you can say it took over two years from tree to furniture.
A special thanks goes to my neighbor and mentor, Mr. Bill. His expert advice as a master craftsman and his visits to the shop to help work out sticky details were invaluable. But more than that, we have become very close friends.
It was my first project from quarter-sawn white oak and the first time using a "fuming" technique to color the wood. It was a very educational and enjoyable process. Thanks for letting me share it with you!
And now, here is a look at the finished product…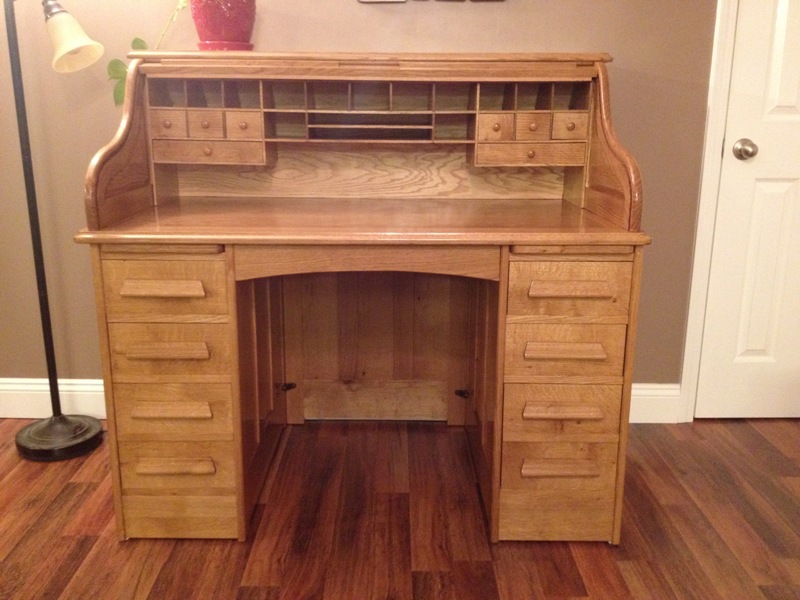 Click any of the images below for a full-size view.
Want to follow along to see how I built this desk? I've written a blog series, giving you a bird's eye view of the process. Start here with part 1.