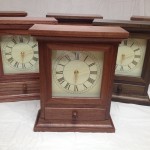 This project is perfect for honing small project skills, where precision is required.
It starts with a few simple table saw cuts, but incorporates a variety of precise router table setups to make the joints fit tight to one another.
I choose this particular model after seeing it featured on the Woodsmith Shop television show (Season 6, episode 2). Free plans for this build are available here.
I built seven of these just before Christmas. I made two of oak, one black walnut and four a rich brown walnut.
I stained the oak models, and then finished off with a number of coats of Tung Oil. The walnut clocks just got the oil coating.
Thanks for looking!