All woodworkers, even those with years of experience, make mistakes…sometimes costly mistakes.
One of the most common errors is cutting a board too short. That's why the old saying is oft repeated – "measure twice, cut once."
But sometimes it's a matter of not paying attention. Such was my demise that resulted in about six hours of work being lost.
At right, you can see the blueprint for the side assembly for the rolltop desk. It requires two long, curved arms. It is really simpler than it looks, but for some reason, my haste made waste.
I taped the enlarged paper graph to a piece of hardboard and made a template. Then I cut my wood pieces, using the template to trace with. When I test-fit them, they were 1/2″ too short. Thinking that I cut them wrong, I repeated the entire process and, again, the pieces were too short.
It was then that I took time to actually figure out the problem…the "ahhhh" moment. Looking at the assembly details, I had not accounted for the 1/2″ "tongue" that slips into the slot on the side rail.
After making a new template, I "measured twice," then again…and again.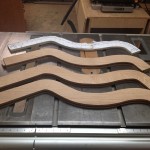 The photo at right shows the progression, starting with the template. The bottom arm is the final product. It fits perfectly!
So far, I've "wasted" two full-size boards and my lumber is nearly depleted. There is no room for error going forward.
Another lesson learned. I could have saved myself some grief had I taken just 30 seconds and laid the template against the other pieces I had already finished. I would have immediately seen something wasn't right BEFORE cutting a single piece of wood.
Oh, well. I'm glad this part is over!